DomoSecret
Luxury Fashion Men Quartz Sport Wrist Watch Drum Roller Casual Watch
Regular price
£159.99
£0.00
100 Brand new and high quality
Features:Drum Roller Quartz Movement
Battery Type:LR44 x 2
How to use the watch: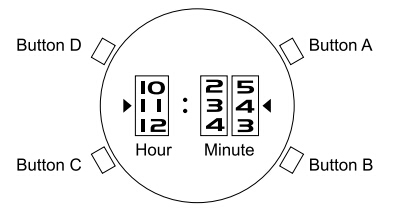 Step 1.Roller positing-Adjust time Position at <12.00>
Press button D and hold for 2 seconds the rollers will start rolling and stop at random position,using button A,B,C to contro the position of the rollers.
Press button C to advance to 12 o''clock position,
Press button A,B advance to zero(0)position,
(You can hold the button to speed up the motion)
After adjustef to 12:00 position press button D or wait for 15 seconds, the rollers will be stopped at random position.
Step 2.Present Time Setting
Press button C and hold for 2 second, the hour digit will move for signal
Press button C to advanve the present hour time
Predd button A to advance the first digit minutes time
Press button B to advance the second digit minutes time
(You can hold the button to speed up the motion)
After adjusted,press button D or wait 15 second, to confirm the present time connect.
Extra:
Demo Animation Mode - Press Button A, the roller will scrol 2 round to demo the drum moving , it will back to normal time once finished.
Temporarilt Stop Timing Mode - Press button B 3 times in shortly, the roller stop at 12:00 until any press.Onve press any button, the watch will back to normal present timing.
When the 4 push bottons are pressed accidentally without prescribed orders,time can be altered. If that happens, please reset the "Time".
What's Included:
---
Share this Product
---
More from this collection